Experience the Irresistible Flavors of MO BBQ at Old Town Smokehouse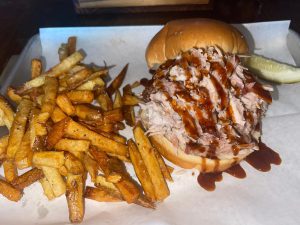 Are you a fan of mouthwatering barbecue?
Look no further than Old Town Smokehouse, your ultimate destination for authentic MO BBQ. Since its inception, Old Town Smokehouse has been delighting customers with their irresistible menu, bringing the rich flavors of Missouri to Wentzville and beyond. Get ready to indulge in a BBQ experience like no other!
A BBQ Menu That Hits All the Right Notes
At Old Town Smokehouse, we pride ourselves on offering a diverse and tantalizing MO BBQ menu that caters to every BBQ lover's taste buds. From smoky meats to delicious sides, we've got you covered.
Smoky Meats:
Our pitmasters work tirelessly to bring you the finest and most succulent smoked meats. Dive into tender brisket, fall-off-the-bone ribs, and juicy pulled pork. Each bite is a journey into the heart of MO BBQ, with its signature smoky goodness.
Delectable Sides:
No BBQ feast is complete without mouthwatering sides to complement the main event. Indulge in creamy mac and cheese, tangy coleslaw, savory baked beans, and more. These sides are carefully crafted to enhance the flavors of our smoky meats, creating a harmonious symphony of taste.
Crafted with Passion, Served with Warmth
What sets Old Town Smokehouse apart is not just the exceptional food, but also the warmth and passion that goes into every dish. Our team is dedicated to providing a memorable dining experience, from the moment you walk through our doors until the last bite.
A Place to Gather and Celebrate
Old Town Smokehouse is not just a restaurant; it's a place to gather, celebrate, and create lasting memories. Whether you're enjoying a meal with family, catching up with friends, or hosting a special event, our welcoming atmosphere sets the stage for unforgettable moments.
Visit Us Today!
Ready to embark on a culinary adventure filled with the flavors of MO BBQ? Visit Old Town Smokehouse today and experience the true essence of barbecue. We can't wait to serve you the best of MO BBQ!